Private Sale Real Estate – Properties For Sale Privately NZ
Are you looking to buy or sell a property privately in New Zealand? Since 1999 DIY Real Estate has provided professional real estate products and services to property owners who wish to 'do it themselves'. Many properties are successfully brought and sold privately throughout New Zealand every year. DIY Real Estate only list properties being sold privately.
Only properties for sale privately are listed on DIY Real Estate. Buying a property privately is easy so check out the selection and contact the properties owner directly. Start your 
Property Search.
If you want to list a property for sale, you can add your property listing for free or alternatively go for the higher profile option. Check out the options by clicking
List a Property.
Recent Property Listings
By Negotiation
1 yr old home in excellent condition. Large living areas. Extra thick insulation plus e-gas to keep the house very warm Wharewaka, is close to the lakefront plus the new supermarket and shopping preci
Asking Price
$1,850,000
Gas cooking and water heating, central air conditioning. Separate entry downstairs, air conditioning , independent 1 living room and 1 bedroom with ensuit. 4 bedrooms upstairs. Guest
By Negotiation
$585,000
31 Clausen Ave is a stunning family home situated in the charming town of Leeston. This modern property offers a perfect blend of comfort, convenience and contemporary style. With its spacious layout,
By Negotiation
Welcome to Marr Road, where the keys open the door to your new life together in a fully renovated two-bedroom home. This residence is perfect for first home buyers, being of a highly durable block con
Or Near Offer
$310,000
Cute wee Ark in the beautiful mountain village of Rangataua. 1 bedroom home with bedroom in the loft. A large deck that looks directly to Girdlestone Peak and Mangaehuehu Glacier making this a n
Enquiries Over
$465,000
This elegant villa in a quiet cul-ta-sac has had some modern updates, however, there are still plenty of places for someone to make their own mark. With 170m2 of living in the main house, there is roo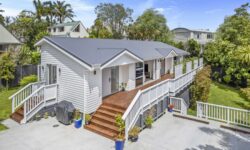 By Negotiation
$1,800,000
Everyone who walks down the drive has a surprised look of WOW! It's a 'new build' hidden from the street and it looks superb! It's safe and secure behind the electric gate, surrounded by birdl
Asking Price
$92,995
New Tiny Home 36 sqm 10m long x 3.6m wide ,1 seperate bedroom 1 bathroom, kitchen lounge coloursteel roof ,double glazed windows , price is ex our yard, we can arange delivery at new owners cost