Free Property Listing | Advertise Real Estate
Advertise your property for free to thousands of New Zealand and International buyers. DIY Real Estate were established in 1999 and have provided home owners with professional marketing options and advise.
Free Online Website Property Listing
DIY Real Estate actively promote home owners selling privately and provide a free real estate property listing to anyone in New Zealand who wishes to sell privately. This includes houses, apartments, units, townhouses, sections, lifestyle properties or any other properties for sale that is not being sold through a real estate agent.
What does the Free Real Estate Listing include?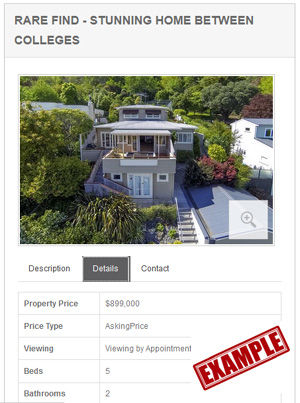 Property Photo
Property Details
Property Description
Contact Details
Google Map Location
Listed for 90 days (3 months)
What's the catch?
There are no catches! Use DIY Real Estates expertise and professionalism to promote your property for free. Listings are easily managed with your own login and changes can be made at any time. You can remove the listing at any stage. Your details and email are kept secure with prospective buyers able to contact you by phone or via the enquiry form.
How do I get started?
Simply click the 'Get Started' button or add your Free Property Listing now.
Are there any other listing options?
Yes. If a higher profile is preferred with more images then the Premium Listing for $69 is an option. This listing is actually free for those who purchase any For Sale sign from DIY Real Estate.