Our large, easy to read, professional real estate For Sale signs are constructed using waterproof corflute - either 3mm or 5mm thick. It's quick and easy to order a sign using our templated design. If you are planning on selling your home privately, having a for sale sign is an important part of marketing your property.
If you have a fence surrounding your home, you can attach your sign to your fence using screws. If you have no fence or a low fence, you can attach the sign to stakes in front of your home. Stakes (typically garden stakes will do the trick) can be purchased from garden shops, Bunnings, Mitre10 or other hardware resellers.
There's no need to use the words "private sale" on the sign. For Sale text is industry standard so simply add property bullet points and a contact number. Adding images or pictures will enhance the sign. This will help you successfully market your property, especially if the property or house can not be seen from the road.
For Sale Sign (Standard)
---
Standard 900mm (wide) x 600mm (tall) 3mm corflute sign
Easy to read, professional for sale sign
Printed with "For Sale" and your key property and contact details
Includes a FREE PREMIUM Property Listing worth $69 here
$59 inc GST (Order For Sale Sign - Std)
For Sale Sign (Pictorial)
---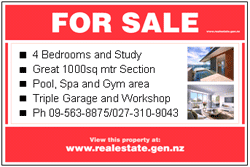 Standard 900mm (wide) x 600mm (tall) 3mm corflute sign
Upgrade the standard for sale sign with images
Printed with "For Sale", 2 images and your key property
and contact details
Includes a FREE PREMIUM Property Listing worth $69 here
$79 inc GST (Order For Sale Sign - Pictorial)
Upgrade to Include QR Code
Option to upgrade your For Sale Sign (Pictorial) with a QR Code. When you visitors scan the QR Code it will take them straight to your TradeMe listing. $95 inc GST
For Sale Sign (Large Pictorial)
---
Large 900mm (wide) x 1200mm (tall) 5mm corflute sign
Make your property stand out from the crowd
Printed with "For Sale", 1 large and 3 small images, heading, expanded property and contact details
Includes a FREE PREMIUM Property Listing worth $69 here
$119 inc GST (Order For Sale Sign - Large Pictorial)
Upgrade to Include QR Code
Option to upgrade your For Sale Sign (Large Pictorial) with a QR Code. When you visitors scan the QR Code it will take them straight to your TradeMe listing. $135 inc GST
For Sale Sign (Directional)
---
Ideal for advertising your property is for sale on a main road or up a driveway
600mm (wide) x 400mm (tall) 3mm corflute sign
Highly visible and easy to read sign
Printed on both sides
$29 inc GST (Order For Sale Sign - Directional)
Includes a FREE PREMIUM Property Listing worth $69 here
Option : Add your address for an additional $10 inc GST (printed on both sides)
The signs arrived as promised and they look professional and bold

Ken J - Johnsonville, Wellington